07. Share your prayers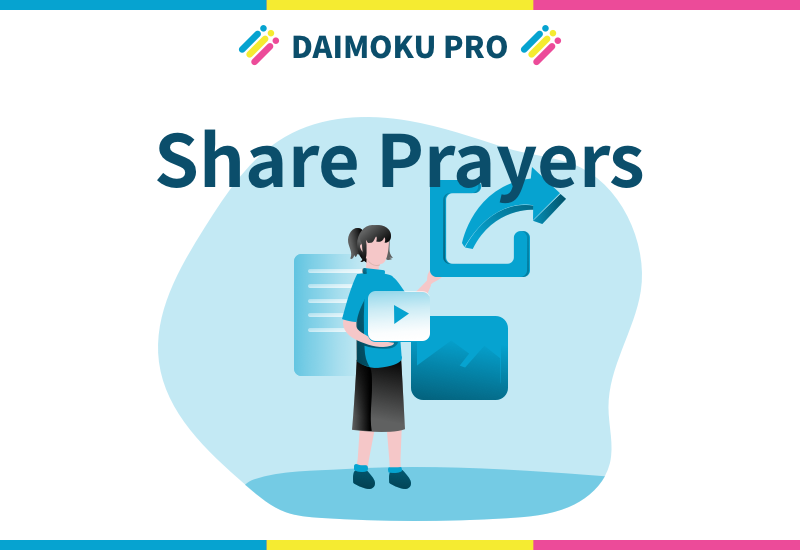 By the function "Share Your Prayer", users can publicly publish their prayer items and allow other members to pray for them. You can also pray for other users' shared prayer items.
Please note that when you publish it, all users who have installed this app will be able to see it.
How to share the prayer items
To share a prayer item, change the "Open Status" to "ON" from the prayer item detail screen.
"Prayed" to prayer items
All users can pray for the public prayer items. You can do this by tapping the heart icon displayed on the right side of any user's prayer item.
When you have chanted Daimoku for your friend or public prayer items, please tap this icon.
Users whose prayers have been "Prayed", will receive a notification in the app notifications. This can be very encouraging.
"Prayed" to prayer items of your friend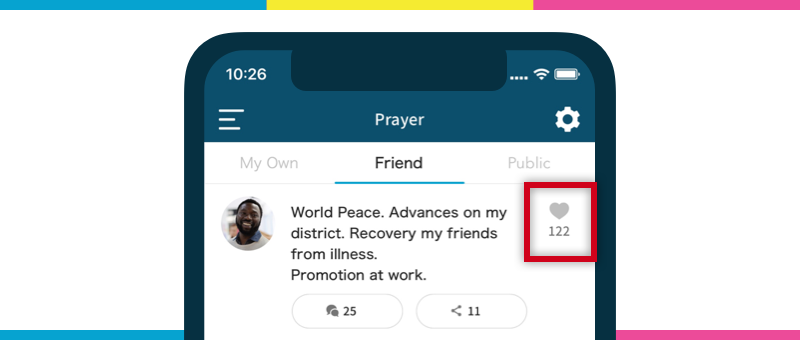 The "Prayed" function can be used only once for the same item and the same user every three hours.
You can do "Prayed" in the morning practice, and then once again in the evening. Each time we do, the number of "Prayed" increases.
You can also tap on "Prayed" for your own prayer items. The more days you pray, the more "Prayed" you will receive from yourself and other users.
Comments on prayer items
Using the comment function can be helpful and supportive to users. For example, if there is a user who has a similar problem and you want to encourage him/her more, please "comment" on his/her prayer item. The content can be as simple as saying you understand their suffering and are encouraging them to overcome it.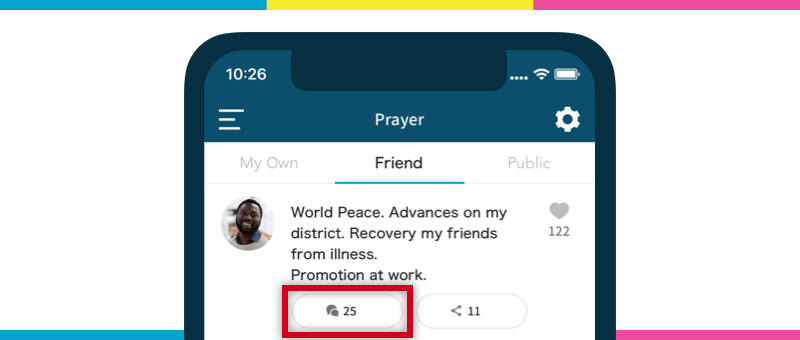 The comment icon on the prayer item card shows the number of comments. When you tap it, you will move to the comment screen of the prayer item.
You can send an encouraging comment here. Please note that this comment will be available for all users to review.
In the real world, when community members say, "I've chanted Daimoku for you," or "I sent Daimoku to you," it makes me happy and energized, and I know that there are people supporting me. IN this way, I'll work harder, pray more seriously, and act more. Through DAIMOKU PRO, it becomes possible to spread this feeling globally and encourage each other all over the world.
"Shared" prayer items
If you want to further support the user or the prayer item, please "share" the prayer item. When a prayer item is "shared" by you, it will appear in your prayer list and show on your friend's prayer details who shared it.
In this way, that "Prayer" item will gain momentum from several more people and awareness by other users. I think that by gathering 10,000,000 "Prayed" for a prayer item, the user will realize that they are protected by "Daimoku from all over the world" and will have the courage to take up the challenge even more seriously.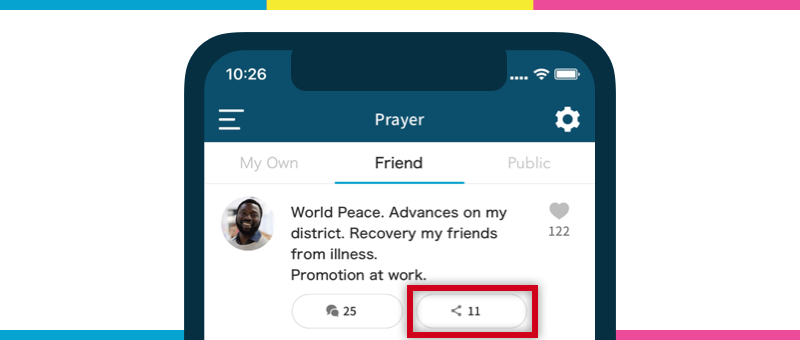 The share icon on the Prayer Item Card shows the number of times it has been shared. You can share that prayer item by tapping here. You can also share on the share details screen.
supplement
Even if you don't use "Prayed" function for the prayer items, I think it can be an encouragement to users with similar concerns. I'm hoping Daimoku Pro will be the ultimate encouragement app.